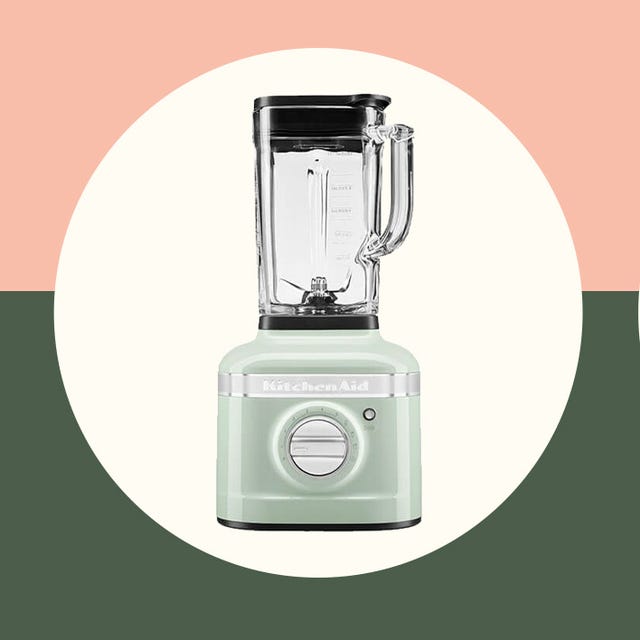 Best kitchen gadgets 2021
Cooking never goes out of fashion and our ultimate list of the best kitchen gadgets is here to help you enjoy it that little bit more.
After lockdown inspired us to spend more time in the kitchen and try new recipes, we're ready to invest in beautiful new kitchen gadgets to bring an extra sprinkling of joy to the experience.
From electrical appliances, such as blenders and hand mixers, to clever kitchen gadgets you've never thought of using, like meat thermometers and angled measuring jugs, you'll want to keep scrolling to see the nifty kitchen tools available for cooks.
Our pick of the best kitchen gadgets proves that there's something for every budget too, so whether you're looking for a clever tool under a tenner or fancy splurging on someone special (or yourself!) , we think you'll like our ultimate list of cool things to cook with.
From baking buys to kitchen utensils and unusual accessories, our roundup of the best kitchen gadgets includes all the top must-haves, including chef-quality knives, the perfect little purchase for seafood lovers and classic items that every cook needs.
Advertisement – Continue Reading Below
1
Best kitchen gadgets 2021
OXO Good Grips 3-in-1 Avocado Slicer
Just what every devotee to the humble avocado needs, this 3-in-1 slicer will save them a whole lot of time – and injuries! The cool kitchen gadget makes for an excellent stocking filler (and costs under £10 too!), allowing your receiver to split, pit, slice and scoop an avocado with ease. We like!
2
Best kitchen gadgets 2021
Dualit 89303 Hand Mixer, Chrome
Not only does this sleek kitchen gadget look cool with its retro chrome design, it's an excellent hand-held tool that works a treat. It has four different speed settings and an easy grip handle to make mixing easy and comfortable. There are dough hooks, flat beaters and a balloon whisk so a kitchen tool for every job, allowing you to bake more than just banana bread this winter.
3
Best kitchen gadgets 2021
Echo Dot (4th generation) Smart speaker with Alexa
It's not a kitchen gadget per se, but the Echo Dot is pretty handy to have when cooking, whether you're a novice or a pro. With Amazon Alexa, you can get help converting units, keep multiple timers and even control your appliances. If you need recipe ideas, Alexa is here to help, or you can get the perfect wine pairings for your food and listen to music while working on your dish.
4
Best kitchen gadgets 2021
Kenwood Titanium Chef Patissier XL Stand Mixer
The creme de la creme of stand mixers, we spied this professional-style design by Kenwood at Michelin-starred chef Raymond Blanc's cookery school at Le Manoir aux Quat'Saisons. The large kitchen gadget does more than your average – which you'd expect for its investment price. The technologically advanced mixer has an EasyWarm bowl that proves dough and melts ingredients in one clever bowl. It also has built in weighing scales and you can set the time to mix while you work on something else, so there's no over-mixing. It comes with all the attachments you need, including the larger than usual K-beater, creaming beater, dough hook and balloon whisk. Plus, it looks sleek on the kitchen worktop!
5
Best kitchen gadgets 2021
Joseph Joseph Nest Measuring Cup Set
We love this colourful measuring cups and spoons set from Joseph Joseph, which combines both kitchen essentials into one handy little gadget. The set includes onecup, half cup, third cup and quarter cup measuring cups, and continues down into spoon sizes with one tablespoon, one teaspoon, half teaspoon and quarter teaspoon cups. There are eight in total, with snap-together handles for a convenient way to keep them tidy when you're not using them. 
6
Best kitchen gadgets 2021
Prestige Fish Bone Tweezers
Seafood lovers rejoice! These adorable tweezers from Prestige will change the way you tuck into your fish supper. They're designed to make preparing and eating bony fish easy, and help you remove those pesky bones. Made from smart stainless steel, the dishwasher safe kitchen gadget is a cute must-have for any seafood fan.
7
Best kitchen gadgets 2021
KitchenCraft Herb Scissors
If you've been growing your own herbs, now is the time to start enjoying them and this cool set of scissors will help you make light work of flavouring meals. It cuts everything, from parsley to chives, with its five quality blades that work together at once, saving you time and hassle. The useful kitchen gadget feels comfortable to use too, thanks to the soft grip handles.
8
Best kitchen gadgets 2021
Tefal Unlimited ON Induction 32 cm Non-Stick Frying Pan
For a frying pan that lasts, offers non-stick for years and can be used on all hobs, Tefal's Unlimited ON Induction pan does the job well. At 32 cm, you can do your whole fry-up in one pan, which means less washing up! Despite being a little heavy due to its size, cooks love it, with one saying it's the 'best frying pan ever' and another adding that 'nothing sticks'.
9
Best kitchen gadgets 2021
John Lewis & Partners Lemon Squeezer
A simple yet effective kitchen gadget, this lemon squeezer comes in a sunny colour and works a treat when you need to add a dash of lemon juice to your dishes. Plus, the bright kitchen tool is easy to wash and we like the good quality metal design.
10
Best kitchen gadgets 2021
7 Piece Ash Self Sharpening Knife Block
A stunning investment piece of kitchenware that's built to last a lifetime, once you try Zwilling's set of professional knives you'll never go back. There's more to the chef-quality set than meets the eye too: it comes with a clever self-sharpening block so you won't need a knife sharpener. The sharpening stones are built into the slots, making the knives a joy to use even after years of chopping your favourite meats and veggies. 
11
Best kitchen gadgets 2021
Homeasy Vacuum Sealer
Increase the quality of life of your ingredients with this cool gadget that uses a vacuum seal to ensure they stay fresh and healthy. It's ideal if you're a steak lover and want to seal and store your meat without taking up too much space in the freezer. One happy cook says: 'This is great for someone like me who lives alone and cooks for one, in that it lets me store surplus food for later use and even freezing.'
12
Best kitchen gadgets 2021
Joseph Joseph Adjustable Rolling Pin
Struggle to roll out dough or pastry evenly? You'll want to get your hands on this brilliant rolling pin from Joseph Joseph. The kitchen tool allows you to achieve the exact required thickness of either 2mm, 4mm, 6mm or 10mm. The colourful discs can be removed and the surface of the pin features measurements to help you roll out the right size.
13
Best kitchen gadgets 2021
OXO Good Grips Angled Measuring Jug – 500 ml
Ever thought you needed an angled measuring jug? You will now! This plastic jug from OXO has an angled measuring surface so you can measure accurately from above, bringing an end to bending, lifting, checking and adjusting. The oval shape of the kitchen tool lets you see measurements by just looking down and the non-slip handle means you can pour with precision – even with wet hands. Clever, right?
14
Best kitchen gadgets 2021
Alessi Sfrido Vegetable Peeler
Peel your veggies with pleasure thanks to this thoughtfully designed kitchen tool by Alessi. It was made to resemble a twisted ribbon but it's not all about the looks as one satisfied customer says: 'I absolutely love this peeler. The kitchen gadget is solid and feels beautiful to hold and as a left hander makes peeling a dream.'
15
Best kitchen gadgets 2021
Cuisinart Rechargeable Automatic Wine Opener
Make opening a bottle of wine a real pleasure with this gorgeous kitchen gadget from Cuisinart. It cuts the foil of the bottle with precision, lifts the cork out of the bottle and pushes it back out of the device. The stylish kitchen tool comes with a vacuum sealer so you can preserve the rest of your wine.
16
Best kitchen gadgets 2021
OXO Good Grips Locking Can Opener with Lid Catch
Every kitchen needs a can opener despite many tins being made with pull rings these days. When the ring pull fails or you pick up a tin without one, this nifty tool will be your favourite companion. This one from OXO is particularly good as it features a magnet that lifts the lid off, eliminating the danger of  a free-flowing one and allowing you to dispose of it without getting messy – clever, right? The handle also locks in place so you don't have to squeeze too hard when opening cans.
17
Best kitchen gadgets 2021
OXO Good Grips Meat Shredding Claws
One for meat lovers, this set of shredding claws is ideal for shredding big pieces of meat to give you pulled pork, chicken, beef, and turkey. The long handles keep your hands away from the food  and the teeth interlock in two different positions for maximum shredding. The excellent kitchen gadget is shaped for lifting and turning, and transferring shredded meat, too. 
18
Best kitchen gadgets 2021
Orblue 13.5″ Danish Dough Whisk
If you watched Nigella's Cook, Eat, Repeat series, you might have spotted her using a Danish dough whisk to perfect her bread loaves. This marvellous kitchen gadget breaks up the lumps and gets your water and flour mixed up to perfection. Orblue's pack of two dough whisks are made from oak and superior stainless steel for a bread-baking must-have that lasts.
19
Best kitchen gadgets 2021
Cuisinart Style Collection Expert Prep Pro Food Processor
One of the best food processors on the market, this impressive kitchen gadget is a tremendous all-rounder. It comes with two different bowls, leaves behind minimal food waste and offers two speed settings. The adjustable slicing disc and spiralizing disc are attachments you'll love.
20
Best kitchen gadgets 2021
Cuisipro 30 cm Silicone Locking Tongs
Found in the kitchens of professional chefs, silicone tongs are one of the best kitchen gadgets to keep in a drawer. They'll prevent scratches on your pots and pans, and offer better grip when handling slippery foods like ravioli. This pair from Cuisipro are loved by cooks all around who say they're the 'best tongs around'.
21
Best kitchen gadgets 2021
Velaze Pestle and Mortar Marble Pestel & Mortar
A classic kitchen tool for every keen cook, this pestle and mortar by Velaze comes in sleek grey marble. Crush your herbs and spices the traditional way with this weighty piece that makes for a terrific kitchen gadget that withstands the test of time.
22
Best kitchen gadgets 2021
Zwilling Odour Remover Soap
Browse the top reviews of this nifty kitchen tool and they read something like, 'really works'. If you're not a fan of the fish or garlic smell on your hands days after you've cooked a meal, you'll want this brilliant kitchen gadget in your life. The stainless steel soap neutralises odours on your hands and is simply used under running water like a regular bar of soap.
23
Best kitchen gadgets 2021
KitchenCraft MasterClass Deluxe Stainless Steel Mash Potato Ricer
Top cooks like Hugh Fearnley-Whittingstall and Yotam Ottolenghi swear by this kitchen tool and a potato ricer is the answer to creating super-smooth mash. This one from Kitchencraft is made from stainless steel and will help you make tasty rostis, fish cakes, fruit sauces and more.
24
Best kitchen gadgets 2021
Breville Ultimate Deep Fill Toastie Maker
Who doesn't love a good toastie? Take your love of the humble snack to the next level with Breville's terrific toastie maker. It features innovative extra deep fill plates so you can add as much filling as your heart desires. The Cut & Seal technology creates perfectly sealed, enclosed toasties and the high hinge prevents leakage for a clever kitchen gadget that's easy to keep clean.
25
Best kitchen gadgets 2021
Midnight Scoop Stainless Steel Ice Cream Scoop
Anyone who takes their love of ice cream seriously will appreciate this impressive kitchen gadget for those with a sweet tooth. The ice cream scoop is especially good for hard ice cream, allowing you to ergonomically push into it using your arms and shoulders for more leverage and power. The curved handle, spear-shaped front tip and dishwasher safe design makes the kitchen tool a winner. 
26
Best kitchen gadgets 2021
KitchenCraft Italian Stainless Steel Spaghetti Measurer
Always boiling too much pasta? This nifty kitchen tool is the answer! It accurately and easily measures spaghetti portions using a beautifully polished stainless steel measuring guide. The cool kitchen gadget allows you to measure one to four adult portions.
27
Best kitchen gadgets 2021
Veritable Arctic White Classic 4-Slot Indoor Garden
How stunning is this indoor herb garden? A lovely way to bring the outdoors in and add some extra flavour to your dishes, this kitchen gadget comes with Sweet Basil, Curly Parsley, Chives and Cherry Tomatoes. Made in France, its sleek design looks stylish in the kitchen. It also holds water for up to three weeks for when you're away.
28
Best kitchen gadgets 2021
Alessi Spoon Rest
When it comes to beautiful kitchen gadgets, Alessi offers all the curves and cutting edge design. The Italian brand can transform something so simple, like a spoon rest, into a piece of art that's perfect for gifting or proudly displaying by your stove.
29
Best kitchen gadgets 2021
Magicfun Blow Torch
A kitchen tool that creme brulee fans will appreciate, a blow torch is loved by professional chefs and baking enthusiasts. This one offers superb flame consistency at six inches long. Amazon shoppers rate it too, with one saying: 'I have been pleasantly surprised by the quality and reliability.'
30
Best kitchen gadgets 2021
Chef Remi New Jar Opener
A terrific kitchen gadget for cooks of all ages, this jar opener comes with various sizes and allows you to access your ingredients with minimal effort. It's ideal for those with minimal hand strength, while handy for every cook to keep in their drawer.
31
Best kitchen gadgets 2021
STAUB 24cm Round Cast Iron French Oven Cocotte
For a foodie gift they'll love forever (or the ultimate treat to splurge on for yourself), this gorgeous cast iron cocotte from Staub is as beautiful as they get. The attractive piece of cookware is ideal for entertaining with its ice blue colour and fleur des lis lid design. STAUB's cocottes are a joy to use, whether you're baking bread in the oven, slow cooking meat or serving up a tasty stew.
32
Best kitchen gadgets 2021
Le Creuset Small Baking Tray
A brand for every kitchen and a House Beautiful Awards winner, Le Creuset is loved by cooks all around. Its non-stick baking tray is an essential (and affordable too!), that slides easily in and out of the oven. Perfect for making meringues, gingerbread men, shortbread, scones, biscuits and more, it has a wide rim on the outside with heat-resistant silicone inserts for added grip. Made of heavy gauge carbon steel, it offers excellent heat distribution and the quality Le Creuset is known for.
33
Best kitchen gadgets 2021
Joseph Joseph Uni-tool 5-in-1 Kitchen Utensil
This kitchen gadget comes highly recommended by shoppers who say it's a 'versatile alternative to a wooden spoon' and a 'great addition to your utensil drawer'. The five-in-one tool is a slotted spoon, turner, cutting tool, solid spoon and spatula – an excellent buy for anyone short on space.
34
Best kitchen gadgets for 2021
KitchenAid Artisan K400 Blender
For a beautiful kitchen gadget you'll want to show off, look no further than KitchenAid's blender that comes in four gorgeous colours, from Pistachio to Candy Apple. This clever blender will power through tough ingredients to help you achieve perfect soups, smoothies and sauces, and it even turns ice into snow!
35
Best kitchen gadgets 2021
Microplane Adjustable V-Blade Slicer with Julienne Feature
A mandoline slicer is a godsend for cooks – ask a professional chef. These impressive kitchen gadgets help you effortlessly cut fruit and vegetables. Microplane's V-Blade Slicer is one worth considering as this game-changing tool comes with an ultra-sharp V-shaped blade (watch your fingers!) on one side and a blade with julienne teeth on the other. There's a dial to choose your thickness and a non-slip foot and soft-touch handle so it feels comfortable to use. 
36
Best kitchen gadgets 2021
Marcato Atlas 150 Pasta Machine
Not only will this cool kitchen gadget impress your guests, this one provides plenty of fun as you make lasagne, fettuccine and tagliolini. For pasta fiends looking to take their love of the tasty carb to another level, this Italian-made kitchen tool is a must-have. 
37
Best kitchen gadgets 2021
Microplane Gourmet Fine Grater
Professional chefs love this brilliant grater by Microplane, which works like magic on garlic, chilli, nutmeg, parmesan and anything else you need to transform into a paste or powder-fine shavings. For a cool kitchen gadget that will become your go-to, this fine grater is more than worth its affordable price tag.
38
Best kitchen gadgets 2021
Zwilling Cookware Set, 5 pcs.
When it comes to top-notch cookware, Zwilling is the brand to know about. Made in Germany and designed to the highest standards, its pots are a pleasure to use. The Quadro 5-piece set makes for an excellent gift yet you'll want to keep it for yourself. From the tight-fitting lids to scratch-resistant stainless steel and shiny finish, everything about these pots make you want to spend more time in the kitchen! They're also suitable for all types of hobs and feature interior measuring scales.
39
Best kitchen gadgets 2021
Doqaus Meat Thermometer
Another must-have for meat lovers is a thermometer to ensure your steak is perfectly done. This affordable kitchen gadget has a large, easy-to-read screen for when things get smoky and features a simple on/off button. It also folds up neatly for convenient storing. 
40
Best kitchen gadgets 2021
Morphy Richards Kitchen Scales with Jug
If you're short on space or simply appreciate a clever kitchen gadget, this kitchen scale is a multi-functional tool that helps you measure your ingredients and provides you with a mixing bowl. It has a water, milk and oil volume indicator, while conveniently weighing all your ingredients in one bowl.
This content is created and maintained by a third party, and imported onto this page to help users provide their email addresses. You may be able to find more information about this and similar content at piano.io
Advertisement – Continue Reading Below